The Little Jack Butterfly Fishing Tool is a high-quality 7-in-1 tool that offers everything an angler needs (and more!) for a day on the water. Designed and manufactured by renowned Japanese lure makers Little Jack, the Butterfly Fishing Tool will simplify your loadout by combining all your tools into one compact package that is easy to carry and use. Featuring some must-have functions, such as a hook release and line cutter, and some things you probably didn't even think to pack, like a line stopper (for tying leader lines) or bending holes (to reshape bent-out hooks!).
Check out all the features below and watch the video to see this fantastic and handy tool in use!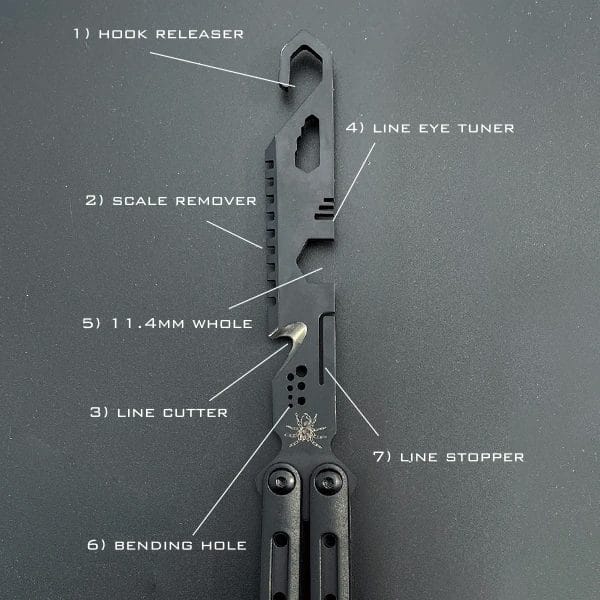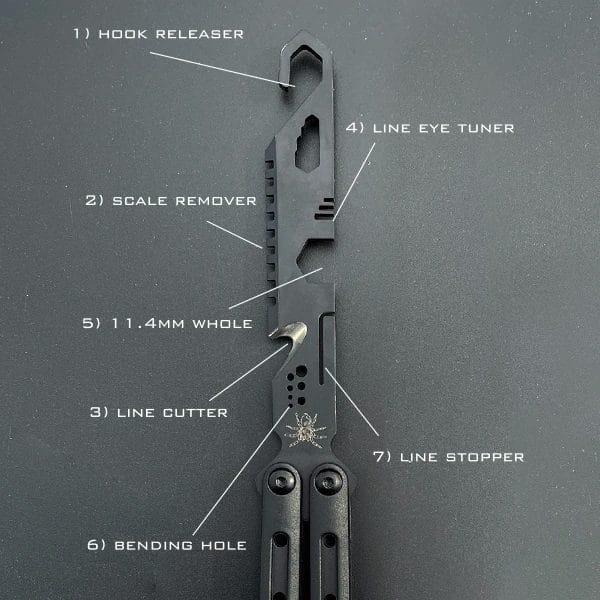 1) HOOK RELEASER – Easily remove the hook from your catch.
2) SCALE REMOVER – Descale fish so you can catch and release them into grease!
3) LINE CUTTER – Simple and sharp line-cutting edge.
4) LINE EYE TUNER – Used for tuning your lures line eyes, keep your lures running true.
5) 11.4mm HOLE – A useful wrenching hole. 11.4mm wide, can be adjusted by inserting a coin to fill the gap on smaller bolts. Check out the image gallery for other uses.
6) BENDING WHOLE – Reshape bent-out hooks, bend wires for lure-making, and more!
7) LINE STOPPER – Wrap your line around this portion of the tool to hold it taught and in place. Helpful in tying leaders or pulling braided lines from snags to avoid damaging your rod (and fingers!).